There are several differing descriptions of the Godbey family crest.
One reads: "ARMS - Gules, a fleur-de-lis or, on a canton azure, a lepard's face of the second. CRES - a demi talbot rampant, sable." This is the family crest that I grew up seeing. Here is a picture of the hand drawn crest that hung in my father's home.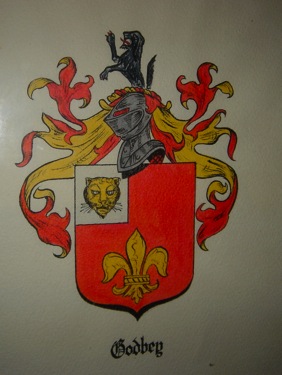 .
Other descriptions include: "The Armorial bearings of this family are thus heraldically described: Sable, a chevron argent between three men's head proper. Crest a tree."
These images are free thumbnails of two other versions of the Godbey coat of arms.